Video Presentation of OpenAI Integration - Live AI-augmented Lexicography - Presented at CODH Seminar
Presentation 20th CODH seminar: 'On how ChatGPT can take over all of the dictionary maker's tasks' - Watch the Video of the Presentation:
This was presented live 27 Feb 2023 at this online seminar: 20th CODH Seminar "The end of lexicography, welcome to the machine: On how ChatGPT can already take over all of the dictionary maker's tasks" "The 20th CODH seminar welcomes Gilles-Maurice de Schryver, research professor of African linguistics at Ghent University and the former president of the European Association for Lexicograhy, and David Joffe, the creator of the computer-based dictionary making system called TLex. In this talk, they will discuss ChatGPT, the latest technical innovation of the chatbot developed by OpenAI, and its impact on lexicography especially on the process of dictionary compilation, its future, and beyond."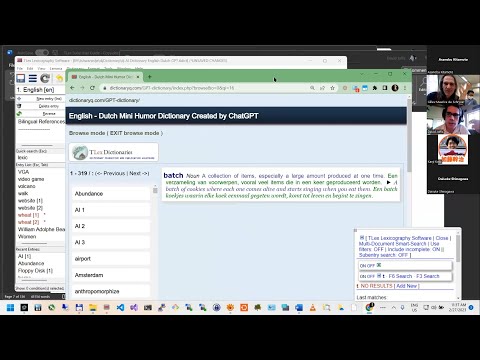 Click here to watch on YouTube instead »
See also this how-to article on getting started using the OpenAI AI integration in TLex, tlTerm, tlCorpus, tlDatabase »
Download a trial version to try it now. Questions? Contact us.
Sample Generative-AI Dictionary
You can view the sample generative-AI humor dictionary created by ChatGPT/GPT here »